Turkey increasingly present
The Head of State will have traveled around the world and the presentations of credentials have followed one another, as well as visits from foreign missions. Recently it was the Turkish ambassador, Volkan Türk Vural, who was received by President Rajaonarimampianina. And according to the declarations of the Turkish ambassador, "the essential subject of this meeting was to deliver the letter of invitation from the President, Recep Tayyip Erdoğan, to the President of the Malagasy Republic for participation in the "World Humanitarian Summit" which will take place at the end of May in Turkey". There was also talk of cooperation at the end of which President Rajaonarimampianina accepted the organization of a meeting called "Turkey Week" and the visit of a strong delegation of 66 people who will stay in the country from Thursday April 21 to Sunday April 24, including 45 businessmen. They will likely explore areas in which they are able to collaborate and make a profit. The objective, of course, according to the ambassador, is "to make known the potential of the country with a view to bilateral cooperation".
In terms of bilateral relations, we must mention the opening since last December of the service by Turkish Airline of the Istanbul-Antananarivo air line three times a week and which will be five times a week in the coming months. In the meantime, three delegations of businessmen came to get to know Madagascar better. "I can say that the future is bright for both countries, especially in terms of economic relations," said Turkish Ambassador Volkan Türk Vural.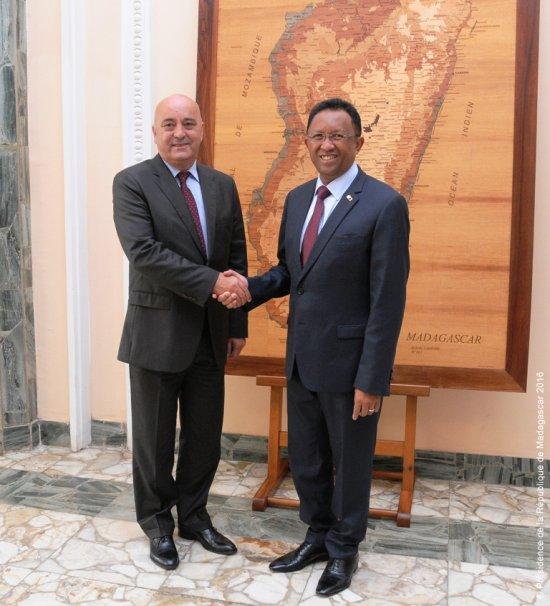 The social aspect is not to be outdone because the Turkish representation in the capital has been very dynamic lately. In addition to cultural events, the Turkish mission in Africa and Madagascar recently offered computer equipment to the Commune of Ivato. It is a complete batch of 25 computers and video projector whose total amount is 50 million ariary. These donations, according to the mayor of Ivato, Penjy Randrianarisoa are intended for pupils and students who attend the center documentation from the town hall.
Madagascar has been developing since this regime a diplomacy that could be said to be "all-out", a diplomacy at the service of the economy say the highest leaders. After the visit of the Secretary General of the International Organization of La Francophonie last month – and she promises to return, the Secretary General of the United Nations, Ban Ki Moon, will also pay a visit to the country next May if many Heads of State or Government are expected for the summits in October (COMESA) and November (Francophonie).