$ 10,000 and two plane tickets for its employees
Tired of the annual bottles of wine and boxes of chocolate given away by your boss as rewards for your days of hard work? Apply to Spanx! This week, the founder of the American underwear brand Sara Blakely, became a billionaire again after reaching an agreement to sell the majority of the shares of her company to Blackstone.
To mark the occasion, the 50-year-old businesswoman surprised her employees with a significant gift: "I'm giving each of you two first-class tickets to any destination in the world!" , she rejoices, leaving the room in shock. "But you know, if you want to travel, have a good restaurant and drink a good cocktail...here's also $10,000!" she continued.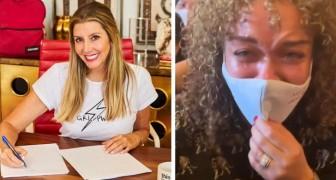 Starting from nothing, with only $5,000 in her pocket in the year 2000, the entrepreneur from Atlanta quickly carved out a place for herself among the great fortunes. When she started Spanx, her goal was to one day make her company worth $20 million. People made fun of her, she says. A nice revenge that she wanted to share with her more than 500 employees. And they are not about to forget it.
(The essentials/sl)