Curlynak: meeting with the young creator of a brand of technical and fun socks!
Anthony Nakoneczny is a very young entrepreneur: this young high school student and trail runner from Haute-Savoie launched his own brand of technical socks for trail running at the age of 17. Meet !
CURLYNAK. Aperitif chips? Polish chemist? Blasphemy and lack of culture: it is "La Chaussette Trail 100% frisée" that explodes. Curly? we wonder: loop knitting, or the blonde locks of its creator? Both, my captain. And in this winter without snow but full of yellow, a success story, it feels good: we are going to Sallanches for a double encounter. We've heard so much about him, that we spot him 80m away: Anthony Nakoneczny. Unmissable with its golden fleece and its copious quadri. High-flying trailer, and young business creator. With one difference: this boss, he meets... at the end of the classes.
17 years old, high school student and entrepreneur: What else? why wait when you have the idea, and the need? Don't wait, create your activity and the sock of your dreams. Appointment is therefore taken with Anthony. Between 2 thinnings on the Salève, it's time for a test and an interview.
Meeting with Anthony, creator of the brand.
Wider: Anthony, your story is starting to get known, and beyond Rhône-Alpes. Let's check the legend: what is your sporting background?
Anthony Nakoneczny: An alpine hunter dad and family champions, I fell into it as a child! In mountain class since the sixth, I quickly attacked: debut in mountain biking, and departmental champion 3 consecutive years and without a club. But the virus quickly passed me. The mountain bike atmosphere was not "mountain" enough in my opinion. So I started the trail. A much stronger contact with nature. The virus took hold, and unexpected performances followed (Editor's note: 2nd cadet on KV du Môle, 1st on Comblorane, 1st on Tour des Fiz…). My first interviews, sponsors and projects in my head for 2019!
Wider: We all dreamed of inventing during our high school years - the pizza by fax, the implanted cheat sheet... But you did it. Do you wake up one morning saying to yourself: "tomorrow, I'm creating a sock?" »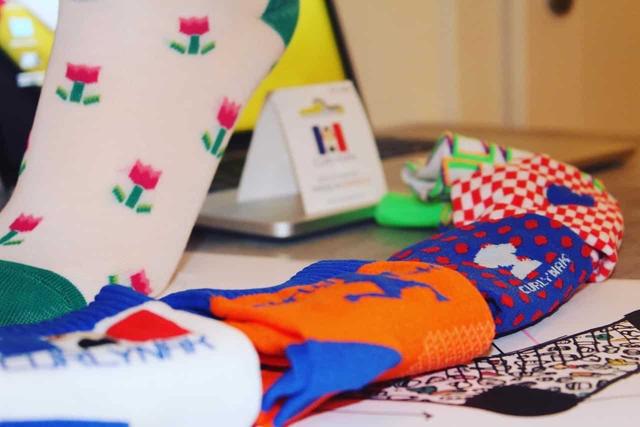 AN: Curlynak, it's a project that kinda happened to me. A design idea, research, headaches, ambition, we stir a little and we get this brand. I've always been quite creative. I have pretty fun tastes, I think we have to let go, especially in sport. I like athletes who do not take the lead and dare the 2nd degree in competitions.
Wider: Let's talk product. What are the advantages of the Curlynak sock? Convert us.
AN: Repeat with me: "they are the best"... More seriously, I think it is essential to be able to equip yourself in a trendy but qualitative way. With Curlynak, I try to promote both without compromise. Buying Curlynak is also supporting a young person. It's a message sent to all people who want to get started and carry out their projects, it's to prove that even at 17 you can undertake and have credit. To advance.
Wider: The market is competitive. Flashy prints or patterns are all the rage, the rising mid is back, etc. How do you position yourself?
AN: Our strategy is constant evolution for controlled prices. A lot of new things are coming. Great respect for other brands, and it's not easy to exist in this market. Of course… but possibilities – provided that you offer something new, whether visual, technical, etc. I want to innovate and take advantage of my rise in trail running to promote the brand. Allow runners to have a nice pair of socks without getting a blister in 10 km.
Wider: Did you manage to federate sports ambassadors around your project? are you looking for it?
AN: Yes, I already have a few athletes involved, notably Rebecca Glarey (Editor's note: Team WAA, Italy). There are also ambassadors like Clément Boegeat, Ludovic Mougel, and a few others who play a role of technical advice and promotion. However, I am looking for 1 or 2 elites to sponsor.
Wider: What is your assessment of your 6 months of activity? is the boss virus inoculated?
AN: 200% positive. I learn every day, I meet great people, I make mistakes, I fix them, I do what I want, I take responsibility. Yes: contaminated and for a long time.
Wider: Creating your business, is it just a fun or educational experience? where do you plan to dig this way?
AN: At the moment I don't need to choose, I can develop my business, have fun, learn, and study. My academic future in an establishment for high-level sport (the CESNI) will also allow me to be able to do everything for at least 3 years. If Curlynak chokes, then I'll stop and take it as a positive experience. But if it takes off even more, I'll make it a serious pro option.
Wider: What developments in the next 6 months? Already the Chinese market and the billions of pairs? Let's go…
AN: Current contracts with major local sports brands. A change of plant for optimal quality and lead times. New colors and visuals. Finally, I extend the brand with clothes, caps, and maybe more…goodies are coming, back to school will be colorful!
Wider: Bonus question - the next sock trend for you? want to attack the underwear market?
AN: The sock of the future will be Curlynak, or it won't be (4th degree). For underwear, I'll think about it. But rather string, for once (15th degree). Lots to do in the area.
Learn more: https://www.curlynak.com/ and [email protected]